The Goldsmith School for Disabled People, the ambitious project named "The Value of the Jewel" has been officially inaugurated on Friday July 14th, in Frosinone.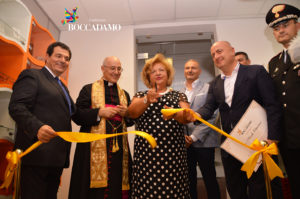 With friends, sponsor and donors, and the political and religious authorities, we have celebrated Open Day: the protagonists have been  the six boys who, since July 3, have began to attend the first free course. Partner of this praiseworthy initiative is  Etjca – Job Agency, which promoted the project of training of special students.
"As a businessman and president of the Boccadamo Foundation," said Commendatore Tonino Boccadamo in his speech, "I am aware of the value that our project of a" special "jewelery school can represent for everyone. A contribution to supporting an Inclusion society, where everyone can feel empowered. In July, the first one-month goldsmith course was opened, welcoming young local people, waiting to be able to extend our initiative at national and international level. A goal that I am sure will reach with the help of friends and supporters, close to this and our other initiatives. "
As a noble project, the Goldsmith School has become a reality. From today onwards, the Boccadamo Foundation will work to "grow the Value of the Jewel", expanding its horizons and opportunities.
Social Share