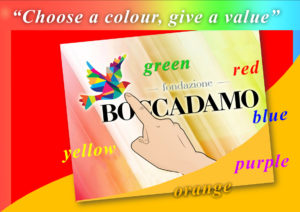 Do you want to give something special doing good? Here are our first e-Cards, digital postcards to send as a gift for friends and everyone. Share the campaign "Choose a color, give a value". The colors of the dove, symbol of the Boccadamo Foundation, express the values we want to promote in the name of solidarity and charity: tollerance, peace, hope, dialogue, proximity to the weakest…
We like to associate each color with each of these values: find out what's most heartening, want to live more and share with others; for each e-card there is a thought to be given.
You can book them by choosing the color, purchasing and donating them: your contribution will be in favor of Boccadamo Foundation solidarity projects.
Send a mail to  direzione@fondazioneboccadamo.org  indicating the type and quantity and you will receive them with a bid of € 10,00 each.
We are waiting for you!
Social Share