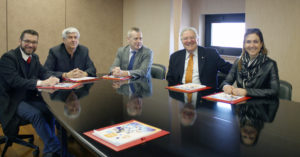 It approaches the day of delivering machinery for breast tomosynthesis to Anagni's health care center. On March 10, at the headquarters of the BancAnagni, the director of the Boccadamo Foundation, Mauro Bellini, took part in the meeting with the promoters of the initiative for the formalization of the purchase order. After more than two years, the "United for Women" project is approaching its conclusion, giving hundreds of women the ultimate generation machinery for early diagnosis of breast cancer. An important result that has been committed immediately by the Boccadamo Foundation, alongside BancAnagni, the promoter of the initiative, and the Municipality of Anagni.
To do homage, BancAnagni's chairman, Stefano Marzioli, together with Vice President Augusto Frattale, who hosted Dr. Bellini, Anagni's Mayor Fausto Bassetta, and the Councilor for Social Policies in the City of the Popes, Alessandra Cecilia. Dr. Bellini expressed his satisfaction: "The Boccadamo Foundation is pleased with the result achieved through the partnership with BancAnagni, the Municipality of Anagni and the citizens who participated in fundraising. The "United for Women" initiative responds perfectly to the goals of our association, in defending and promoting the health of people, in this case women. We shared common values ​​and concreteness in transforming a project into reality ".
The first citizen of Anagni thanked Banca and Fondazione for having completed a commitment that will allow the presidency of his municipality to return to be a reference point in the health of the province of Frosinone, for which the same municipality of Anagni participated When purchasing machinery. The praise of the initiative on behalf of all women was Councilor Cecilia.
Social Share